Sangamon County ILGenWeb © 2000
In keeping with our policy of providing free information on the Internet, data and images may be used by non-commercial entities, as long as this message remains on all copied material. These electronic pages cannot be reproduced in any format for profit or for other presentation without express permission by the contributor(s).
---
PAST AND PRESENT OF THE CITY OF SPRINGFIELD AND SANGAMON COUNTY ILLINOIS
By Joseph Wallace, M. A.
of the Springfield Bar
The S. J. Clarke Publishing Co., Chicago, IL
1904
---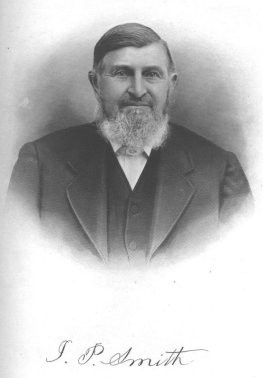 Page 94
I. PERRY SMITH - is not living a retired life in Pleasant Plains. He was born in Greene county, Illinois, November 18, 1826, and is a son of Benjamin Smith, whose birth occurred in Shenandoah county, Virginia, on the 9th of December, 1791. The family is of English ancestry and was established in the Old Dominion at an early day. Later representatives of the name went to Coshocton county, Ohio, Benjamin Smith being then a young man, for the year of the removal was 1809. In Ohio he was united in marriage to Miss Mary Horton, a native of New York, who was reared, however, in Ohio. She was a daughter of Ezra Horton, also one of the first settlers of Coshocton county. In 1818 Benjamin Smith removed to Illinois and established his home in Greene county, where he opened a farm. He died there in 1831, in the prime of life, being but forty-five years of age at the time of his demise. His wife survived him for two years, passing away in 1833. In their family were four sons and three daughters, of whom all have passed away except our subject and his youngest brother, M. T., who lies in California. After the death of the parents the children became scattered and were reared by strangers.
I. Perry Smith made his home with a good family, by whom he was trained to habits of industry and integrity that have proven of strong force in his successful career at a later day. He had but limited school privileges being almost entirely self-educated, and at farm work he became proficient because of his extensive labors in that direction. After arriving at years of maturity he worked by the month as a farm hand for one year and then enlisted for service in the Mexican war, joining the Second Illinois regiment of volunteers under Colon William H. Bissell, later governor of Illinois. Mr. Smith participated in the battle of Buena Vista, where his company lost seventeen men in killed and wounded. The captain had both eyes shot out and three lieutenants of the command were killed. Mr. Smith served for fifteen months and was then honorably discharged at Comargo, Mexico, after which he returned to his home in 1847.
On again coming to Illinois, Mr. Smith rented a farm and began its cultivation, devoting his time to its further improvement for three years. He also owned and operated a threshing machine for sixteen years, visiting many farms in the west and southwestern part of the state. His first purchase of land, made in 1853, comprised a tract of one hundred and four acres in Cass county, Illinois. It was all raw land, but with characteristic energy he began its cultivation and in due course of time made it a valuable property. This he broke and fenced and the work of improvement was carried on until his efforts returned to him good harvests. He continued farming in Cass county for six years and then sold that property, coming to Sangamon County in 1859. Here he established his home in Cartwright township upon a farm of one hundred and twenty acres. Later he built a good house and barn, together with other necessary outbuildings for the shelter of grain and stock. His fields were richly cultivated and everything about his place was kept in excellent condition. As time progressed he purchased other land, and he now has valuable realty holdings comprising three hundred and twenty acres, of which two hundred acres are in Sangamon county, while one hundred and twenty acres lie in Menard county. The tracts adjoin, however, and all is well improved. Mr. Smith continued his farming operations until 1888, when he rented his farm and came to Pleasant Plains, where he has since lived retired, although he yet supervises his property interests. In this place he purchased a residence, remodeled it and now owns an attractive and comfortable home.
It was on the 4th of July, in Cass county, Illinois that Mr. Smith was untied in marriage to Miss Martha A. Way, a native of that county, who was reared and educated there. Her death occurred, however, in 1860. She left one daughter, Helen M., who was born in 1853, and in 1888 gave her hand in marriage to William Lind. ON the 18th of July, 1891, she was called to her final rest, and at her death left a daughter, Helen Smith Lind. For his second wife Mr. Smith married Miss Mattie E. Cloud, the wedding taking place February 12, 1862. For ten years she remained as his companion and helpmate on life's journey, and then passed away, August 20, 1872. In 1874 Mr. Smith wedded Miss Lottie Hayes, a sister of the wife of Dr. Atherton. She was born in Pennsylvania, but was reared in Sangamon county, Illinois.
Politically Mr. Smith is a stanch Democrat whose first presidential vote was deposited for Lewis Cass in 1848. He has since voted for each presidential nominee of the Democratic party, never missing an election. He has, however, no desire for office or its emoluments, content to do his duty as a private citizen. He and his wife are devoted members of the Methodist Episcopal church. He was converted in February, 1852, and has since taken an active interest in church work, laboring effectively in the Master's cause and often serving as one of the officers of the church. He likewise belongs to the Masonic fraternity, being a charter member of the blue lodge at Pleasant Plains, of which he is now past master. He is also a demitted member of the Royal Arch chapter and the Order of the Eastern Star. Mr. Smith has reached the seventy-seventh milestone on life's journey. There are few remaining veterans of the Mexican war, but the story of that struggle, which to most people is a matter of history, is to Mr. Smith a matter of memory and of experience. With patriotic spirit he followed the nation's banner to protect its rights in the south during the struggle with Mexico, and since that time he has always been true to his country and her best interests.

---
Return to 1904 Biographies Index
Return to Sangamon County ILGenWeb
---