Sangamon County ILGenWeb © 2000
In keeping with our policy of providing free information on the Internet, data and images may be used by non-commercial entities, as long as this message remains on all copied material. These electronic pages cannot be reproduced in any format for profit or for other presentation without express permission by the contributor(s).
---
PAST AND PRESENT OF THE CITY OF SPRINGFIELD AND SANGAMON COUNTY ILLINOIS
By Joseph Wallace, M. A.
of the Springfield Bar
The S. J. Clarke Publishing Co., Chicago, IL
1904
---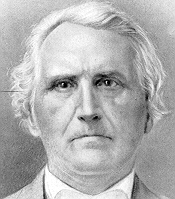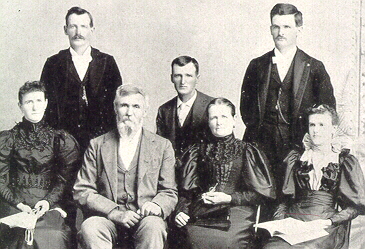 Daniel Staley - Daniel Staley Family
Ancestor of Ralph Sheppard

DANIEL STALEY - Among Sangamon county's honored native sons is Daniel Staley, whose entire life has been passed in this locality. Throughout the years of his active business life he was chiefly engaged in farming but was also interested in the banking business for some time, though he is now living a retired life in the village of Loami.
Mr. Staley was born in Loami township, February 10, 1841,and is a son of Daniel Staley, Sr. whose birth occurred in Cabell county, West Virginia, in 1799. His paternal grandfather, Stephen Staley, was a native of Holland and, leaving there on account of religious persecution, he emigrated to the United States, taking up his residence in the Old Dominion, where he reared his family. The father of our subject grew to manhood in the state of his nativity and there married Miss Rebecca Bowen, who was born in North Carolina but was reared in Virginia, of which state her father, Zaza Bowen, was a native. After his marriage Mr. Staley continued to make his home in West Virginia until 1826, when with his wife and two children he started west, reaching Sangamon county, lllinois, in October of that year. He located in what is now Maxwell township, where he purchased a squatter's claim of eighty acres, and at once began to improve his property. As time passed he added to his land until he had twelve hundred and sixty acres of good farming property. He was a thrifty, energetic farmer and well deserved the success that attended his efforts. After a useful and well spent life he passed away on the 16th of March, 1883, when over eighty-four years of age. His first wife had died in 1847 and he subsequently married again. He survived his second wife also. In his family were three sons and seven daughters, of whom one son and one daughter died in childhood, but only Daniel, Stephen and Mrs. Minerva Owens are now living.
Upon the home farm Daniel Staley, Jr., grew to manhood and in the public schools of the neighborhood he acquired his education. He remained with his father until his marriage, which important event of his life occurred on the 7th of March, 1861, Miss Elsie J. Hudson becoming his wife. She was also born and reared in that locality and is a daughter of Y. M. Hudson, another of the early settlers from Virginia. The young couple began their married life on a part of the old homestead, consisting of one hundred and twenty acres of land, to which Mr. Staley added until he had four hundred acres, and to the cultivation of his land he devoted his time and energies until 1893, when he bought residence property in the village of Loami and has since made his home there. He was one of the promoters and organizers of the Loami Bank in 1892 and served as its president from the time of its organization to the present date. He is well known as a reliable business man, straightforward and honorable in all his dealings, and he commands the respect and confidence of the entire community in which he lives.
Unto Mr. and Mrs. Staley were born eight children, but three of the number died in infancy. Those still living are Ada L., wife of W. C. Park, a farmer of Loami township; Arno V., a farmer of the same township; William Y. and Joseph D., twins, both business men of Loami and Bertha, wife of Charles Wickoff, a merchant of Loami.
The parents are both prominent and active members of the Cumberland Presbyterian church, in which Mr. Staley is now serving as elder. Politically he has been a life long Democrat, as was his father before him, casting his first presidential vote for General George B. McClellan in 1864. He has never cared for political honors, but has served as assessor and collector in his township for two terms each. He is now filling the office of township trustee and was a member of the school board for many years, having, always taken a deep interest in educational affairs. In his social relations Mr. Staley is a Mason and is past master of the blue lodge at Loami. He has also taken the Royal Arch degrees at Auburn and stands high in the fraternity. During the long years of his residence in this county he has witnessed its marvelous development and as a public spirited citizen he has aided materially in its upbuilding. Few men are better known throughout this part of the county and he stands high in public esteem.
---
Return to 1904 Biographies Index
Return to Sangamon County ILGenWeb
---