Sangamon County ILGenWeb © 2000
In keeping with our policy of providing free information on the Internet, data and images may be used by non-commercial entities, as long as this message remains on all copied material. These electronic pages cannot be reproduced in any format for profit or for other presentation without express permission by the contributor(s).
---
PAST AND PRESENT OF THE CITY OF SPRINGFIELD AND SANGAMON COUNTY ILLINOIS
By Joseph Wallace, M. A.
of the Springfield Bar
The S. J. Clarke Publishing Co., Chicago, IL
1904
---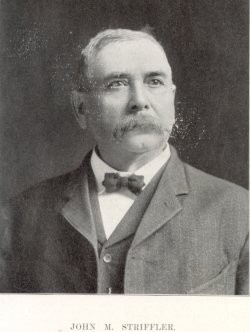 Page 684
JOHN M. STRIFFLER - John M. Striffler is classed with the leading business men of Springfield, where he is engaged in dealing in ice. He was born in Wurtemberg, Germany, on the 22d of May, 1840, and was left an orphan at an early age, at which time he went to live with an aunt, with whom he remained until about 1858. In that year he went to Vienna, where he spent six years, and in the meantime he learned and followed the baker's trade. He was in Vienna at the time an heir was born to the Austrian throne, over which event there was great rejoicing, one hundred cannon being fired around the city. In 1864 Mr. Striffler sailed for America, landing in New York, whence he at once made his way to Springfield. Here he opened a bakery near the Chicago & Alton Railroad depot, where he continued until the spring of 1866 and then removed to Adams Street. In 1867 he extended his field of operations to the ice business, and in 1870 disposed of his bakery and gave his entire time to the development of the ice trade, which he has since followed exclusively, with the exception of the period of the years 1882-82, when he was engaged in the operation of a flour mill. He now deals in bituminous and anthracite coal, and his main office is at No. 215½ South Fifth street. He has put up the greater part of his ice at the late, and in 1867, when he began business, he had to haul the entire supply by wagon, but now a modern railroad brings it direct to his storage plant and to his ice house in the city. Some years ago, because of the very mild winter here, he had to have four hundred carloads of ice shipped from Madison, Wisconsin, but his enterprising spirit thus enabled him to meet the demands of his customers, many of whom have given him their patronage for a very long period. He is the oldest ice merchant in years of continuous business in Springfield, and his honorable methods in all trade transactions, combined with his enterprise and strong determination, have been the salient features in his successful career. He now owns, in addition to his business and property in Springfield, a good farm two miles west of the city and the Crystal lake ice houses. He has just formed a corporation and taken out papers under the name of the Striffler Ice & Coal Company, capitalized at fifty thousand dollars. The company intends building a cold storage plant and factory for the manufacture of artificial ice at the corner of Madison and Klein streets, to be supplied with all modern improvements.
In public affairs Mr. Striffler has been prominent and influential, and in office he has put forth every effort in his power to advance the welfare and upbuilding of the city. He served as alderman of Springfield for eight years and was nominated for the position of mayor, but was defeated for that office in 1899. He has been a member of the Odd Fellows' Society for more than thirty years and now has a souvenir medal which indicates a continuous connection in good standing for a quarter of a century. He has filled all of the chairs in the local lodge, has been a delegate to the grand lodge and at present is one of its members. He also belongs to the Ancient Order of United Workmen and to the Arion Club, of Springfield, and to the Springfield Business Men's Association.
In Springfield Mr. Striffler was united in marriage to Miss Philipina Bellam, who was born on the Rhine in Germany. They have become the parents of eight children: John, August, Albert, Charlie, Mollie, Clara, Flora and Ella. The daughter, Clara, is now the wife of Charles Britz, a grocer of Springfield, and Ella is a teacher in the public schools of this city. John is a contractor of street paving, residing in Marinette, Wisconsin, and August and Albert assist their father in the management of his business.
Great changes have occurred in Springfield since Mr. Striffler took up his abode here. At that time the business center was not around the public square and the old courthouse stood where the First National Bank is now seen. At that time Mr. Striffler could have purchased prairie land for five dollars per acre and there was much wild game in the county. He came to America a young man, possessing no capital, but imbued with a spirit of energy and determination. He met the business conditions of Illinois in a way which enabled him to utilize them to the best advantage, and as the years have come and gone he has progressed in business until today he is one of the most prosperous residents of the city, having gained prosperity as a dealer in ice. His business methods are such as will bear the closest investigation and scrutiny, and many a valuable lesson might be learned from his life history, because it shows the power of industry and perseverance as dominating factors in the affairs of life.

---
Return to 1904 Biographies Index
Return to Sangamon County ILGenWeb
---