Sangamon County ILGenWeb © 2000
In keeping with our policy of providing free information on the Internet, data and images may be used by non-commercial entities, as long as this message remains on all copied material. These electronic pages cannot be reproduced in any format for profit or for other presentation without express permission by the contributor(s).
---
PAST AND PRESENT OF THE CITY OF SPRINGFIELD AND SANGAMON COUNTY ILLINOIS
By Joseph Wallace, M. A.
of the Springfield Bar
The S. J. Clarke Publishing Co., Chicago, IL
1904
---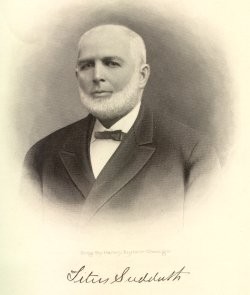 Page 942
TITUS SUDDUTH - While the life records of the men who have attained eminence in state and nation are always of interest they sometimes serve to awe rather than to inspire to emulation the readers who peruse their history. It is known that but few can attain distinction in states craft or in military circles, but the field of business is limitless and it is possible for any to gain success therein and win an honorable name. This Titus Sudduth did, and his example is well worthy of emulation. It should serve to inspire and encourage others who, like himself, have to start out in life empty-handed. He was born near Mount Sterling, Kentucky, February 23, 1829, and his father, Thomas Sudduth, was a native of Clark County, Kentucky, born on Christmas day of 1797. The latter lived in the Blue Grass State until 1834, when with his family he came to Illinois, settling in what is now Fancy Creek township, where he lived for many years, his attention being devoted to agricultural pursuits. He married Miss Margaret McCreery, who was born in Kentucky in 1803 and they were widely known in this community as earnest Christian people, holding membership in the Methodist Episcopal church. Mr. Sudduth, also served as justice of the peace for several years, discharging his duties with promptness and fidelity. He passed away July 4, 1884, having for a few years survived his wife, who died on the 10th of March, 1880. In their family were five children.
Titus Sudduth was only about five years of age, when brought by his parents to Illinois and his educational privileges in his youth were limited, but by observation and experience he continually broadened his knowledge. He possessed an observing eye and retentive memory and in all things he was practical, so that information he gained was turned to good account in his business. He started out in life at an early age, working for nine dollars per month, but his industry and economy proved a sure foundation upon which to rear the superstructure of success. Carefully saving the money he earned, he invested it in land from time to time, and when he had become the owner of a small tract he began farming for himself, operating the little place of thirty-eight acres with an ox-team. He was very methodical in all his work and as his financial resources increased he added to his possessions until he was at one time the owner of eleven thousand acres of very valuable farming land in central Illinois. He improved and extended his home tract until it comprised about three thousand acres under a high state of cultivation, and he supplied it with all modern equipments. He dealt largely in stock and for years he was one of the most extensive stockmen of the central portion of the state. He carefully considered every plan for the advancement of his business interests, and when once his mind was made up he carried forward with determination the work which he undertook. During the Civil war he began dealing in mules. He was a pioneer in this enterprise in central Illinois, but he found that it returned a handsome profit and he became well known in this regard. His reputation as a systematic farmer extended over a wide territory. In all of his work he was methodical, energetic and persevering and everything about his place indicated the care and supervision of a progressive owner. He also became a stockholder and a director in the Farmers National Bank of Springfield, and during the last several years of his life was president of the institution.
On the 4th of May, 1854, Mr. Sudduth was married to Sarah A. Cooper, who was born in this county, a daughter of Rev. John and Susanna (Giger) Cooper. Her father, who was born June 3, 1794, in South Carolina, died in 1860, while his wife, whose birth occurred September 26, 1795, passed away in 1859. They were among the early pioneers of this county, arriving on the 2d of April, 1820. Mr. Sudduth died July 16, 1899, and his widow, who still survives him, now resides in Normal, Illinois. Unto Mr. and Mrs. Sudduth were born six children: Ella, deceased; Laura; Annie, deceased; Mary C., who is now the wife of Nelson K. McCormick, of Normal, Illinois, and has two daughters and one son; Thomas, of Springfield, who is married and has two sons; and John W., who is also married and makes his home in this city. As his financial resources increased mr. Sudduth surrounded his family with all of the comforts and luxuries of life. He was a man of domestic tastes, devoted to the welfare of his wife and children, and he considered no sacrifice on his part too great that would promote the happiness of his loved ones.
Reared in the Democratic faith Mr. Sudduth afterward gave a divided allegiance to political parties, supporting the men whom he thought best qualified for office or the measures which eh believed would promote the general good. His sympathies were to a large degree with the Prohibition party, for he was always a temperance man and a worker in the interest of that cause. Matters affecting the general welfare elicited his earnest attention and he was a co-operant factor in many measures for the good of his community and the improvement of the city and county. His life was one of earnest toil carefully directed by sound judgment. He realized that there is no royal road to wealth and upon the sure and safe foundation of earnest and indefatigable labor he builded his prosperity. In all of his dealings he was straightforward and honorable and he left to his family not only a large estate, but also the priceless heritage of an unclouded record.
John W. Sudduth, the younger son of Titus Sudduth, was born in Normal, Illinois, February 8, 1869. His early education was supplemented by a course in the state normal university and then he prepared for the bar as a student in the Wesleyan Law School, in which he was graduated with the class of 1891. The same year he was admitted to the bar, but he does not engage in practice. He gives his attention, instead, to the live stock business and is a well known capitalist of Springfield. He takes an active part in political affairs, voting for principle rather than party. He and his family are leading members of the First Presbyterian church of Springfield.
On the 4th of January, 1894, John W. Sudduth was married in Bloomington, Illinois, to Olive E. Coates, a daughter of R. W. and Emily (Davis) Coates, prominent residents of Bloomington. The father was an extensive land owner of that locality. Mr. Sudduth pursued her education in the high school there and afterward spent two years as a student in the Illinois Wesleyan University. By this marriage has been born one son, John W. Sudduth, Jr., whose natal day was December 18, 1899, and one daughter, Mary Davis, born April 27, 1903.

---
Return to 1904 Biographies Index
Return to Sangamon County ILGenWeb
---