Sangamon County ILGenWeb © 2000
In keeping with our policy of providing free information on the Internet, data and images may be used by non-commercial entities, as long as this message remains on all copied material. These electronic pages cannot be reproduced in any format for profit or for other presentation without express permission by the contributor(s).
---
PAST AND PRESENT OF THE CITY OF SPRINGFIELD AND SANGAMON COUNTY ILLINOIS
By Joseph Wallace, M. A.
of the Springfield Bar
The S. J. Clarke Publishing Co., Chicago, IL
1904
---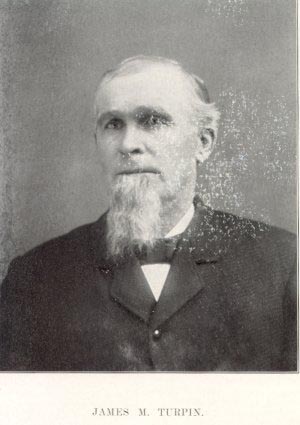 MRS. LOTTIE TURPIN - Mrs. Lottie Turpin, who is residing in Loami, is well known throughout Sangamon county and is held in high esteem by a very large circle of friends. While the women of our land do not figure as prominently in public affairs and business life as do the fathers, husbands, brothers and sons, they yet exert a strong influence that is largely felt in all the lines resulting in intellectual, social and moral culture, and are therefore no less deserving of mention as representative citizens of their communities. The personal characteristics of Mrs. Turpin are such as have commended her to the warm regard of those with whom she has come in contact and moreover she has long been a witness of the growth and progress of this part of the state.
Mrs. Turpin was born in Sangamon county, January 14, 1830. Her father, James G. Webb, was born near Winchester, Kentucky, in 1790, representing one of the oldest families of that state. He was married there to Elizabeth Petty, also a native of Kentucky. He served as a soldier of the war of 1812, enlisting before he attained his majority, and was in the battle of New Orleans and other engagements. In his native state he followed farming, and after his marriage and the birth of two of his sons, he removed to Illinois in the '20s, settling in Loami township, becoming the owner of one hundred and sixty acres, which his labors converted into a very productive tract. Upon that place he died in 1842, when about fifty-two years of age. His wife died about 1838. In their family were the following children: Elizabeth and Caroline, the sisters of Mrs. Turpin, died in Christian county, Illinois. Willis R. Webb was reared and married in Sangamon county and died here several years ago. John A., when a young man went to Iowa, was married there, and died in that state in 1902. Adin went to California, where his death occurred.
Mrs. Turpin was reared in Sangamon county and pursued her education in the public schools. Here she became acquainted with James M. Turpin, who was born in Andrew county, Missouri, in 1828. He came to Illinois in 1844, at the age of sixteen years, settling in Sangamon county, and before he was nineteen years of age he enlisted as a soldier for service in the Mexican war. After the close of his military experience he located on a farm in Loami township, beginning with forty acres of raw prairie which he had entered from the government at the land office in Jacksonville. He made the rails and fenced it, broke and planted the fields and developed a good place, to which he added as his financial resources increased until within the boundaries of his farm was comprised a tract of three hundred and twenty acres. He erected a neat residence, good barns and substantial outbuildings and fenced and tiled the place, developing a splendid property.
Mr. Turpin enlisted in 1861 as a defender of the Union, becoming a member of the Seventy-third Illinois Infantry, called the preachers' regiment. He joined the army as a private but was elected second lieutenant at Camp Butler and at the battle of Chattanooga, where many of his comrades were killed, he was promoted to the rank of first lieutenant. He was in the battles of Perryville, Lookout Mountain, Missionary Ridge and other important engagements, and in November, 1862, he resigned and returned to his home. Late in the year 1889 he visited the south and took a bottle of water from the Providence spring at Andersonville. His wife still has this bottle of water as a memento of that trip and of her husband's army experience.
Mr. Turpin was one of the successful farmers and business men of the county and, although he started out in life on his own account without capital, he became a prosperous agriculturist. At the time of his marriage he owned only one old horse, which he afterward sold for thirteen dollars. For a time after his marriage he worked by the month as a farm hand and later purchased and improved a farm of his own. As the years passed he prospered and later he took up his abode in Loami, purchasing a residence in the town, and becoming a factor in mercantile and other lines of business here. He was always an energetic, industrious man and carried forward to successful completion whatever he undertook.
In politics Mr. Turpin was a most earnest Republican, doing everything in his power to promote the cause of his party and he was elected and served for several terms as a member of the board of supervisors and as police magistrate. He also filled other positions of honor and trust, discharging all public duties in a most commendable and efficient manner. He was widely and favorably known in Springfield and throughout the county as a man of tried integrity. He belonged to the Masonic fraternity, and at his death, which occurred February 25, 1891, he was buried with masonic honors. He left behind him the record of an honorable life for he was a man loyal in citizenship, patriotic in military service, faithful in friendship and most devoted to his wife.
Since her husband's death Mrs. Turpin has erected an attractive home in Loami, one of the best residences of the town. She and her husband joined the Methodist Episcopal church in 1847, and she belongs to the Foreign Missionary society. She gives liberally of her means to church and benevolent work and has led a life of usefulness, her kindly spirit and charity endearing her to all.

---
Return to 1904 Biographies Index
Return to Sangamon County ILGenWeb
---