Sangamon County ILGenWeb © 2000
In keeping with our policy of providing free information on the Internet, data and images may be used by non-commercial entities, as long as this message remains on all copied material. These electronic pages cannot be reproduced in any format for profit or for other presentation without express permission by the contributor(s).
---
PAST AND PRESENT OF THE CITY OF SPRINGFIELD AND SANGAMON COUNTY ILLINOIS
By Joseph Wallace, M. A.
of the Springfield Bar
The S. J. Clarke Publishing Co., Chicago, IL
1904
---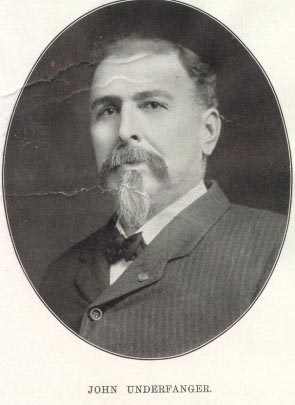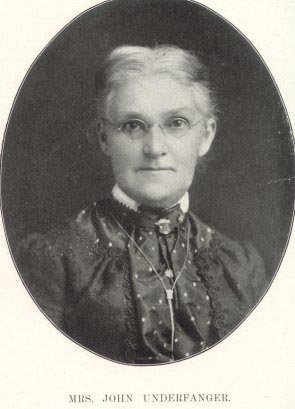 JOHN UNDERFANGER - Almost thirty years have passed since John Underfanger became a resident of this county, being at that time a young man of about eighteen years. He was born in Belleville, St. Clair county, Illinois, April 15, 1847. His father, Bernhard Underfanger, was born in Germany in 1816, while his wife, Barbara, was born in the same country in 1821. He was a butcher, having learned that trade in his native country. He came to America in 1841 and his wife crossed the Atlantic with her parents bout the same time. Locating in Belleville, Illinois, they were married in that city in 1845, and of the union four children were born, of whom one died in infancy. The others are Frederica, the wife of Peter Kaertcher of Belleville; John, our subject; and Susan, the wife of James Laughlin of Belleville. The father was successfully engaged in the meat business at Belleville at the time of his death. He passed away in 1852 in the faith of the Catholic church, while the mother, who was reared in the Lutheran church, died in 1901, after a residence of sixty years in Belleville. They were well educated people for their day and were widely and favorably known in the locality in which they had so long resided.
At the age of thirteen years John Underfanger was confirmed in the Lutheran church and soon afterward he began learning the trade of a cabinet maker. In August, 1862, when but fourteen years and four months of age he enlisted at Belleville for service in Company G, Forty-third Regiment of Illinois Volunteers. Although so young, he was then five feet ten inches in height and since that time he has grown but one inch. He joined the army as a recruit and was sent to Camp Yates in Springfield for drill. He afterward took part in the siege of Vicksburg, the battles of Prairie du Chien, Lagrange and Iuka and was in the Red River expedition. Suffering from a sunstroke, he was sent to the hospital and later was returned to Springfield, where he was transferred to the Veteran Reserve Corps. He was in the army for one year and two months and was then mustered out at St. Paul, Minnesota, October 4, 1865. Mr. Underfanger had the honor of serving as one of the bodyguard at the burial of Abraham Lincoln. Thirty-five men were chosen for this purpose and they were selected because of their physique and fine personal appearance.
On the 2d of November, 1865, Mr. Underfanger was married to Miss Emily L. Taintor, a daughter of Eli N. Taintor, who was one of the prominent men of Sangamon county in an early day. He became one of the pioneer brick makers of the city and here died in 1861. Mrs. Underfanger was born April 19, 1849, and by her marriage has become the mother of six children, but of these two died in infancy. The others are as follows: Frederica was born September 1, 1871. John, born September 18, 1875, married Amelia Wiedlocher, by whom he has two children. Charles born January 22, 1877, married Pearl Walscher and has one daughter, Elizabeth, who was born August 31, 1902. Esther, born February 21, 1884, is now the wife of Scott Peacock. All of the children were born in Sangamon county, were educated in the Edwards school of Springfield, and are still residents of this city, being engaged in business with their father.
After his return from the war Mr. Underfanger was employed as a laborer in a lumber yard and then removed to a farm in Clear Lake township, whereon he remained for two years. Again coming to the city he was made foreman of the work of sinking the Black Diamond coal shaft and in 1888 he gave up mining and began teaming. He purchased a team and as his patronage increased became the owner of other teams and gradually developed his present business, which has reached large proportions and is a profitable source of income. He erected his present storage house in 1899, it being a three-story building, forty by eighty feet with twelve foot ceilings. It was built at a cost of forty-five hundred dollars and the owner is now conducting a profitable storage business. His two sons assist him in his work and Mrs. Underfanger has always been a faithful helpmate to him and to her he attributes much of his success. He redeemed the old Esther L. Taintor place and he now has a good home in this city.
A Republican in his political views, Mr. Underfanger has served as a delegate to the city, county and state conventions and in 1891 he was elected a supervisor of Capital township was again elected in 1901 by a large majority, and unanimously re-elected in 1901 by a large majority, and unanimously re-elected in 1903. Although the board is Democratic he has been appointed a member of the committee on mines and mining and chairman of the roads and highway committee. In this respect he has done much valuable service for the county. He supervised the erection of two steel bridges in Cooper township, has built several other good bridges in the county while a member of the board and he built the first concrete piers ever constructed in this county. He is a leader, not a follower, on the board, and his work is of a profitable and beneficial character. He is a man who believes in progress and labors earnestly toward this end.
Mr. Underfanger likewise belongs to Stephenson Post, No. 30, G.A.R., in which he has been gradually advanced from guard to commander, and he was elected a delegate to the national encampment at Pittsburg, Pennsylvania, and at St. Paul, Minnesota. He obligated General John M. Palmer and mustered him out, burying him at Carlinville, Illinois, and he also buried General john A. McClernand at Oak Ridge. They were the last two volunteer major generals of the army from Illinois. Our subject is also connected with Court Camp, No. 454, M.W.A.; and Capitol Tent, K.O.T.M., also the uniformed rank. He belongs to Sangamon Lodge, No. 6, I.O.O.F., and to the Royal Arcanum and is one of the supporters of the Baptist church. In military circles he has long been prominent and honored and to him has been assigned the solemn duty of laying to rest three of the most distinguished men that Illinois has produced. In matters of citizenship mr. Underfanger is practical above all else. He looks not only to the possibilities of the moment, but to the future, and has labored for the improvement of the county in many ways.

---
Return to 1904 Biographies Index
Return to Sangamon County ILGenWeb
---