Sangamon County ILGenWeb © 2000
In keeping with our policy of providing free information on the Internet, data and images may be used by non-commercial entities, as long as this message remains on all copied material. These electronic pages cannot be reproduced in any format for profit or for other presentation without express permission by the contributor(s).
---
PAST AND PRESENT OF THE CITY OF SPRINGFIELD AND SANGAMON COUNTY ILLINOIS
By Joseph Wallace, M. A.
of the Springfield Bar
The S. J. Clarke Publishing Co., Chicago, IL
1904
---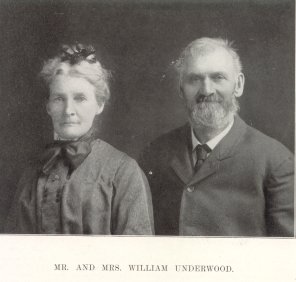 CAPTAIN WILLIAM UNDERWOOD. - Captain William Underwood is one of the progressive farmers and progressive farmers and extensive stock raisers of Fancy Creek township. He lives on section 17, where he owns and operates a farm of three hundred and sixty two acres, constituting a highly improved and valuable property. He has been a resident of this county since September, 1869, and is a native of West Virginia, his birth having occurred in Nicholas county, January 30, 1833. His father, James Underwood, was born in Greenbrier county, West Virginia, in 1807, and was a son of James Underwood, Sr., also a native of the Old Dominion. The family is of English ancestry and was one of the first established in Virginia. The great-grandfather was a soldier of the Revolutionary war and fought in the battle of Guilford Court House. James Underwood was reared in Greenbrier county, West Virginia, and was married in Nicholas county, to Miss Amelia Walker, a native of that county and a daughter of Elveton P. Walker, who was born in Virginia. Mr. Underwood then engaged in farming in West Virginia and unto him and his wife were born nine children in that county. In 1848 he removed with his family to Kentucky, settling in Carter county, where he secured a tract of land heavily timbered. This he cleared and upon this tract reared his family and thereon spent his last years, his death occurring about 1889. His wife survived him for several years and passed away in 1896 at the very advanced age of ninety years. Their family numbered nine children, four sons and five daughters, all of whom reached mature years, while three sons and four daughters are yet living.
Captain William Underwood was reared to manhood in Kentucky and remained with his father until he had attained his majority. He then began business for himself, working by the month for two or three years. On the expiration of that period, having saved his money and lived economically, he purchased land in Carter county, Kentucky, becoming the owner of a trace of one hundred and twelve acres, which he secured from his father and one hundred and ten acres which was bought of a cousin. To the further development and improvement of this land he devoted his energies until 1869, when he sold that property, preparatory to coming to Illinois. Settling in Sangamon county, he here rented a farm which he operated for three or four years. He then purchased one hundred and twenty acres of his present farm and carried on the work of plowing, planting and harvesting with energy. As the years passed his financial resources increased and he purchased more land from time to time. Besides his home place in Fancy Creek township he owned property in Divernon township, but has sold the latter and invested the money in eleven hundred acres of land in Missouri. The success fo Mr. Underwood is due to unflagging industry, to enterprise and careful management and the evidence of his life of labor is his landed possession, comprising six hundred acres. He also has a good home and his farm is well improved with all modern equipments.
Mr. Underwood was married in Carter county, Kentucky, January 22, 1863, to Ethelda Jane Ervin, a native of Bath county, Kentucky, and a daughter of Isaac and Easter (Hamilton) Ervin, who were born and reared in Bath county. Mr. and Mrs. Underwood are now the parents of six children: Rufus, who is married and resides upon a farm at Pawnee Junction; Sherman, who is married and is operating his father's eighty acre tract of land in Fancy Creek township; Henry, who is a farmer of the same township; Cora, the wife of E. E. Cline, a farmer of Menard county; Emma, the wife of Webster Handlan, of Logan county; and Elvira, who is at home with her parents.
Politically Mr. Underwood is a stanch Democrat who cast his first vote for President James Buchanan and his last ballot for William Jennings Bryan. He, however, voted for Abraham Lincoln in 1864. While in Kentucky he served as constable for six years and was deputy sheriff for two years. He was also captain of militia. Since coming to Sangamon county he has filled the position of township collector for one term and he has served as administrator of several large estates, a fact which shows the implicit confidence reposed in him by those who know him well and it also indicates that this confidence has never been betrayed. Mr. Underwood has been a resident of the county for thirty-four years and during this time has seen much of the growth and improvement of the county. He has taken a deep and sincere interest in what has been accomplished here and has co-operated in many measures for the general good. He is well known in Springfield as a man of integrity and worth, well deserving mention in the history of the county's leading and respected citizens.

---
Return to 1904 Biographies Index
Return to Sangamon County ILGenWeb
---