Sangamon County ILGenWeb © 2000
In keeping with our policy of providing free information on the Internet, data and images may be used by non-commercial entities, as long as this message remains on all copied material. These electronic pages cannot be reproduced in any format for profit or for other presentation without express permission by the contributor(s).
---
PAST AND PRESENT OF THE CITY OF SPRINGFIELD AND SANGAMON COUNTY ILLINOIS
By Joseph Wallace, M. A.
of the Springfield Bar
The S. J. Clarke Publishing Co., Chicago, IL
1904
---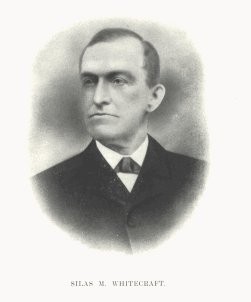 Page 1136
SILAS M. WHITECRAFT - Silas M. Whitecraft is living retired at No. 728 South Seventh street. For many years he was interested in agricultural pursuits and is still the owner of eight hundred acres of valuable land which returns to him a good income. His residence in Illinois dates from 1835 and he is therefore classed among the heroic band of pioneers who have done so much toward opening up the rich regions of this state to civilization. His mind forms a connecting link between the primitive past and the progressive present and through all these years the history of Illinois' capital city has been familiar to him, for his life has been spent in this portion of the state through a period of sixty-eight years.
Mr. Whitecraft was born in Bath county, Kentucky, in 18276, a son of John and Rachel (Arnett) Whitecraft. The father was a native of Pennsylvania, where his ancestors had settled on coming from England to America prior to the Revolutionary war. There were three brothers who sought a home in the new world, including John Whitecraft, the grandfather of our subject. He was a hatter by trade and followed that pursuit in the Keystone state for a time, but with an adventuresome spirit and wishing to see more of the country he abandoned his trade and left his quiet home in Pennsylvania at about the time of the close of hostilities with the mother country. He then made his way to Tennessee and later he became a resident of what was then Montgomery county, but is now Bath county, Kentucky. There he died at an advanced age. He married Jane Kincaid and they had six children, two sons and four daughters, of whom John, the father of our subject was the youngest.
John Whitecraft, Jr., was but eight years of age when the grandparents removed to Kentucky and there he was reared and educated. After arriving at years of maturity he wedded Miss Rachel Arnett, who was of Scot-Irish ancestry and was born in Clark county, Kentucky, and whose family settled in the Carolinas in an early day. They became the parents of five children: Josephine, who was born January 11, 1819, died in Christian county in 1899; John also died in that county, where he had followed agricultural pursuits for a number of years; Silas M. is the next of the family; George W. is a retired farmer of Springfield; Jane M. became the wife of John Williams and died at her father's home in South Fork township, Christian county, Illinois. These children were educated in the pioneer subscription schools near their home. The family settled in Sangamon county before it was divided and were prominent pioneer people of central Illinois. The father was a man who loved freedom of thought and action and could not tolerate the institution of slavery and the barter and sale of human beings. To escape from its baneful influences he migrated northward, first visiting Sangamon county in 1834. In company with Alexander Humphreys he traveled over this portion of the state to find a suitable location and purchased land southeast of Springfield in what is now South Fork township, Christian county, where he made a home and followed farming and stock raising. Coming from the blue grass region of Kentucky he was well qualified to carry on these lines of business here. In 1835 he removed his family to Illinois and they spent two winters at a home about two miles southeast of Springfield and in April, 1836, took up their abode upon the farm which Mr. Whitecraft secured. Sometime afterward the county was surveyed and Christian county was set off from Sangamon, the dividing line passing through the Whitecraft farm which thus lay in two counties. The father was a very progressive man not only in agricultural matters, but in all interests pertaining to the welfare of the community. He assisted in organizing churches and schools and withheld his support from no movement for the general good. He died upon his farm July 25, 1847, and was survived for many years by his widow, who passed away September 22, 1876, when more than eighty years of age.
Silas M. Whitecraft was a youth of about eight years when he became a resident of central Illinois. he remained upon the home farm through the period of his boyhood and youth and assisted in the arduous task of developing a new place. There he was employed up to the time of his marriage, which occurred in Springfield in 1864, the lady of his choice being Miss Lottie Price, a daughter of Abraham and Annie (Ehle) Price. He then began business on his own account and his practiced efforts have been crowned with a high measure of success. For a number of years he was regarded as one of th most extensive stock men of central Illinois. Throughout his business career he devoted his energies to farming and stock raising and was always ready to take up with any new idea that would promote agricultural interests. In 1870 he left the farm in South Fork township, Christian county, and removed with his wife and son to Springfield, purchasing his present home at that time.
Unto Mr. and Mrs. Whitecraft have been born a son and three daughters. Walter is residing upon his grandfather's old homestead in Christian county, where he is carrying on farming on an extensive scale. He was educated in the Springfield high school in which he was graduated and is now married and has two children. After removing to Springfield three daughters were added to the family of Mr. Whitecraft, these being Lottie, Mabel and Bessie, all of whom are graduates of the high school and have pursued special courses in music.
Mr. Whitecraft has long been a consistent member of the Presbyterian church, liberal in its support, and also contributing generously to charitable institutions and benevolent objects. Fond of his family he has surrounded his wife and children with all the comforts and many of the luxuries of life. On removing from the farm in 1870 he purchased his present home on South Seventh street where he has since lived. In politics he has always been a Republican, believing that the most prosperous periods of our country's history have been those under Republican administrations. He has never had any aspirations for office, content to do his duty as a private citizen. He now owns a very valuable farm of about eight hundred acres in Christian county, all well improved and under cultivation and he also has valuable coal deposits under his place. Mr. Whitecraft entered upon his business career with only a small tract of land, but gradually he added to his farm from time to time until it reached its present extensive proportions. He deserves much credit for what he has accomplished, as his business methods have ever been honorable, his success resulting from earnest and persistent labor. Numbered among the pioneers of this portion of the state ha has witnessed much of the growth and progress of Springfield and the surrounding districts and he deserves mention in this volume as one of the representative citizens of central Illinois.

---
Return to 1904 Biographies Index
Return to Sangamon County ILGenWeb
---