Sangamon County ILGenWeb © 2000
In keeping with our policy of providing free information on the Internet, data and images may be used by non-commercial entities, as long as this message remains on all copied material. These electronic pages cannot be reproduced in any format for profit or for other presentation without express permission by the contributor(s).
---
PAST AND PRESENT OF THE CITY OF SPRINGFIELD AND SANGAMON COUNTY ILLINOIS
By Joseph Wallace, M. A.
of the Springfield Bar
The S. J. Clarke Publishing Co., Chicago, IL
1904
---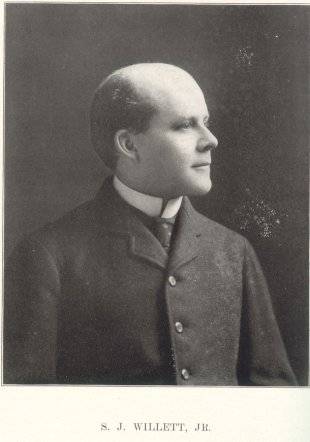 SAMUEL J. WILLETT, JR. - Samuel J. Willett, Jr., a popular merchant tailor of Springfield, was born in this city on the 28th of August, 1865, and at the usual age entered the public schools, continuing his studies for a number of years. In 1880 he began learning the tailor's trade with his father, Samuel J. Willett, Sr., who that year opened an establishment of his own. The business relation between them was continued until his father's death and as his skill and proficiency increased our subject more and more assumed the management of the business, thus relieving his father of arduous care and responsibility. Since the latter's death the son has conducted the business along the same honorable lines in which it was founded. As a merchant tailor he ranks among the best in this part of the state and the establishment which he now controls is the largest and oldest of its kind in operation in Springfield. Employment is furnished to fifteen men. Mr. Willett imports largely from Europe and carries the finest line of goods in the state outside of Peoria and Chicago.
In 1889 in Morgan county, Illinois, Mr. Willett married Miss Clara M. Virgin, a native of that county, born in 1865. Her parents were farming people there and both died in Morgan county. Of their family, eight children are now living but Mrs. Willett is the only one who resides in Sangamon county. By her marriage she has become the mother of two daughters, Clara V. and Mary E., both attending the Springfield schools.
Mr. and Mrs. Willett reside at 1130 South Seventh street. He is a member of St. Paul's Lodge, A.F. & A.M., and has attained the thirty-second degree in the Scottish Rite, belonging to the consistory of Peoria. He is likewise a member of Percival Lodge, K. P., of which he is past chancellor. He is a director of the Citizens Saving & Loan Association; is a member of the Business Men's Association of Springfield; and the only member of the Merchant Tailors' National protective Association residing in Springfield. He has followed in the business footsteps of his father, who was a man of unfaltering honor as well as laudable ambition, and the name of Willett has long been a synonym for straightforward dealing in the business circles of Springfield. Religiously our subject is a member of the Presbyterian church and politically is identified with the Republican party. He is popular both in business and social circles and his pleasant, affable manner makes him a congenial companion.

---
Return to 1904 Biographies Index
Return to Sangamon County ILGenWeb
---