Sangamon County ILGenWeb © 2000
In keeping with our policy of providing free information on the Internet, data and images may be used by non-commercial entities, as long as this message remains on all copied material. These electronic pages cannot be reproduced in any format for profit or for other presentation without express permission by the contributor(s).
---
PAST AND PRESENT OF THE CITY OF SPRINGFIELD AND SANGAMON COUNTY ILLINOIS
By Joseph Wallace, M. A.
of the Springfield Bar
The S. J. Clarke Publishing Co., Chicago, IL
1904
---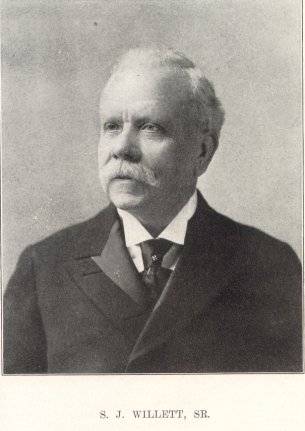 SAMUEL J. WILLETT, SR. - Samuel J. Willett, Sr., passed away at his home in Springfield on the 27th of August, 1901, after a residence here of thirty-eight years dating from September, 1863. He was born in Nantwich, England, January 9, 1829, and after attending the common schools he learned the tailor's trade. When twenty-two years of age he severed the ties that bound him to his native country and crossed the Atlantic to new York where he followed his chosen pursuit for some years. He was married in that city in 1860 to Miss Emma S. Turse, who was born in New York in 1837, and is a representative of an old New England family.
Mr. Willett continued to make his home in the eastern metropolis until 1863, when he came to the Mississippi valley, taking up his abode in Springfield. Here he entered the employ of the firm of Woods & Henkle, with whom he remained until he began business for himself in 1880 at No. 227 South Sixth street. Later he removed to the building one door north of his first location, No. 225 South Sixth street, and in 1895 opened his establishment at the place where the business is still carried on. He began on a small scale, but gradually increased his facilities to meet the growing demands of his patronage. He did a general merchant tailoring business and his excellent workmanship and the fine line of goods which he carried brought to him a large number of customers, whose trade once secured was always retained. He always kept abreast with the times and in style and finish his work was equal if not superior to that done in any tailoring establishment in the city.
In 1865 Mr. Willett purchased a lot and built a home at the corner of Ninth and Mason streets, there living until 1882, when he sold that property and at No. 425 South Douglas avenue erected the residence in which he lived up to the time of his death. Ere removing from New York two children were born unto him and his wife: Mary A. and John Franklin, but the latter died in childhood. Four children were added to the family in this city, namely: Samuel J., whose sketch follows this; Carrie H., at home; Harry T., who is an electrician of Springfield, now manager of the Capital Electric Company; and Emma Eugenie. All were educated in the public schools here and the younger daughter, having graduated in the high school, is now a public school teacher of Springfield.
Mr. Willett never gave any attention to political work aside from that which is due from a loyal American citizen. He kept well informed on the issues of the day and when his fellow townsmen demanded his services in office he capably discharged the duties of president of the village of West Springfield and president of its school board. This was prior to the annexation of the town to the capital city. Mr. Willett was also a member of the official board of the First Congregational church and for several years was one of its deacons. A valued representative of the Knights of Pythias fraternity, he was for three terms its grand chancellor and he was a veteran member of the Independent Order of Odd Fellows. A very prominent Mason, he was associated with the craft in its many departments and for twenty years was prelate of Elwood commandery, K. T. He gave considerable attention to lodge matters and his life was in full harmony with the beneficent and brotherly spirit of these fraternities. Mr. Willett never had occasion to regret his determination to make America his home for he found here the business opportunities he sought, and not only won advancement along financial lines, but also made for himself a good home and gained the friendship and regard of many with whom he came in contact.

---
Return to 1904 Biographies Index
Return to Sangamon County ILGenWeb
---