Sangamon County ILGenWeb © 2000
In keeping with our policy of providing free information on the Internet, data and images may be used by non-commercial entities, as long as this message remains on all copied material. These electronic pages cannot be reproduced in any format for profit or for other presentation without express permission by the contributor(s).
---
PAST AND PRESENT OF THE CITY OF SPRINGFIELD AND SANGAMON COUNTY ILLINOIS
By Joseph Wallace, M. A.
of the Springfield Bar
The S. J. Clarke Publishing Co., Chicago, IL
1904
---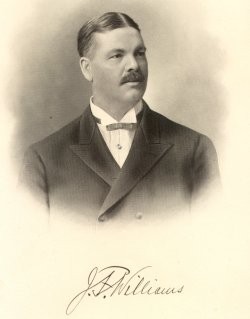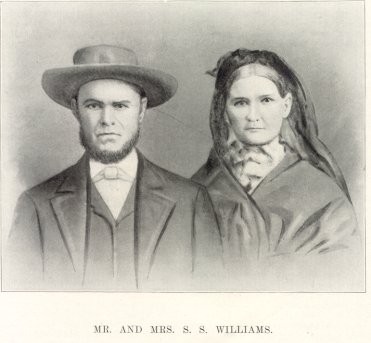 Page 1116
DR. J. F. WILLIAMS - Dr. J. F. Williams, a native son of Springfield, where he has spent the greater part of his life, is too well known to the readers of this volume to need introduction here. He is numbered among the successful business men of the city, whose enterprise, diligence and keen business foresight have enabled him to win prosperity. His generosity, too, is numbered among the salient traits of his character, and combined with a most genial, courteous and cordial manner has won him the friendship and respect of many.
Dr. Williams was born in Springfield, March 10, 1860. His father, S. S. Williams, was a native of Virginia and his parents were owners of an extensive plantation and many slaves there. In Chillicothe, Ohio, S. S. Williams married Miss Isabella Horn, a native of that place, and afterward engaged in merchandising there until 1847, when he came to Sangamon county, Illinois, and turned his attention to the manufacture of hemp. He erected several factories, north, west and southeast of Springfield, and also engaged in farming. Later he took up his abode in the capital city and engaged in business in that part of Springfield now called old town. At a subsequent date he sold out there and removed to a farm southeast of the city, where he carried on agricultural pursuits for a time and then lived a retired life in the capital. He was one of the most generous of men, his benevolence amounting almost to a fault, but the accumulation of wealth did not mean as much to his nature as the assistance of his fellow men, and he continued to give liberally of his means to all who needed his aid - a trait of character which has caused his memory to be enshrined in many hearts. He died in 1901 at the age of eighty-seven years. His political support was given the Democracy. His wife died in Springfield in 1883, and both were buried in Oak Ridge cemetery. They were the parents of twelve children, eleven of whom reached maturity, while seven are yet living: Jacob N., a contractor of Springfield, residing at the corner of Miller and Eighteenth streets; Katherine who is the widow of H. M. Berry and resides in Greenview, Illinois; Jennie, the widow of William Smith, who was a veteran of the Civil war and a contractor of Quincy, Illinois; Mary L., who is the widow of John Scott, formerly a farmer of Buffalo, Illinois; Moses D., a contractor of Quincy, Illinois; J. F.; and Charles, a painter of Springfield.
Dr. Williams spent his boyhood days in his parents' home and attended the public schools of Springfield. His education has been largely self-acquired through reading, study, observation and travel, and he is now a man of broad mind and liberal culture. In early life he worked in the rolling mills for a time and then ran away from home, possessing a boy's adventuresome spirit. He went to California with a soap man and drove all over that state, returning to Springfield in 1879. He then went with Frank Givens and Edward Ellis, patent-medicine dealers, as a banjoist and comedian, and in this way visited the Atlanta Exposition. After again spending four months in Springfield he joined Dr. Turner, the shaker medicine man, as the principal minstrel comedian, and with that company made a trip to Australia. When, on the return voyage, the boat stopped at Auckland, New Zealand, and a United States officer went on board with Hugh Brooks, who had murdered Preller - a case which excited comment throughout the world.
After his return to this country Dr. Williams traveled throughout the United States as a representative of different medicines, being thus engaged until 1890. He left his company at Fort Worth, Texas, and returned to Springfield, where he engaged in business on his own account, traveling and selling tooth powder. In 1893 he organized the Her Boline Medicine Company. A year later Mr. Williams sold out to his partners and then organized the Herbs of Life Medicine Company, with a capital stock of twenty-five thousand dollars. In 1897 this company was incorporated under the state laws of Illinois, the incorporators being Dr. Williams and H. and G. Williams.
Dr. Williams has continued in this business to the present time, and in 1903 the capital stock was increased to one hundred thousand dollars. The medicine herbs of Life is sold by all the leading wholesale druggists of America, over one hundred thousand boxes of the remedy being sold each year. The Doctor travels and advertises his remedy, taking a large company of performers with him to entertain. He now has seventeen advertising companies on the road, and this year (1904) will increase the number to about sixty. The main office is in Springfield and the remedies are manufactured here, the business having grown to be one of the leading industries of the city. Thousands of those troubled with diseases of the blood, liver and kidneys have been cured, and testimonials have been received from all parts of the country. The remedy is guaranteed by a bank draft on the State National Bank of Springfield for one dollar dn this guarantee is placed in every one-dollar package. This is the only medicine manufacturing company that thus protests its patrons, and it indicates the honorable methods of the house of which Dr. Williams stands at the head. He has built up his business along legitimate lines, and because he has remedies which have proven of value in the restoration of health he has secured a liberal patronage. He does not claim to cure all diseases, but by using remedies which nature has given to mankind he has placed upon the market a medicine whose curative qualities have been well proven.
Dr. Williams is a member of the Elks Lodge, the Knights of Pythias and the Fraternal Order of Eagles, and is a stanch Democrat, but has absolutely refused to become a candidate for office, preferring to devote his entire time and attention to his business, in which he has met with most gratifying success. As his financial resources have increased he has made judicious investment in property and owns both residences and business property in Springfield and farm lands in Texas. He is a man of prepossessing appearance, of cordial, genial manner and unfailing courtesy, and, like his father, is most generous, giving liberally to charity and to others less fortunate than himself. Many a man in distress has found in him a friend, and because of his many sterling characteristics he has gained a host of warm friends, who are found in all parts of the country.

---
Return to 1904 Biographies Index
Return to Sangamon County ILGenWeb
---