Sangamon County ILGenWeb © 2000
In keeping with our policy of providing free information on the Internet, data and images may be used by non-commercial entities, as long as this message remains on all copied material. These electronic pages cannot be reproduced in any format for profit or for other presentation without express permission by the contributor(s).
---
PAST AND PRESENT OF THE CITY OF SPRINGFIELD AND SANGAMON COUNTY ILLINOIS
By Joseph Wallace, M. A.
of the Springfield Bar
The S. J. Clarke Publishing Co., Chicago, IL
1904
---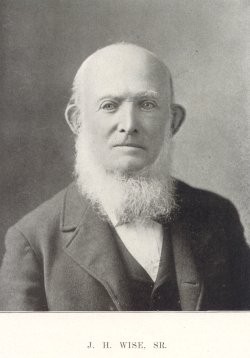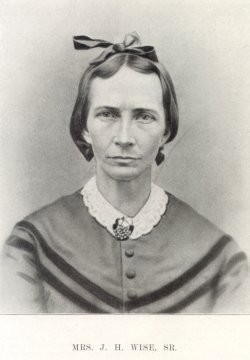 Page 1458
JAMES H. WISE, SR. - This gentleman is one of the prominent and successful farmers of Williams township, owning and operating one hundred and fifty acres of land on section 1. He dates his residence in this county from the 9th of October, 1864, and has since been actively identified with its agricultural interests. He was born in Hamilton county, Ohio, November 6, 1825, and is a son of George Wise, a native of Virginia. His paternal grandfather, William Wise, was born in France and was a soldier in Napoleon's army. On his emigration to America he settled in Virginia and there married a lady of Swiss birth. Subsequently they removed to Ohio and located in Hamilton county. There George Wise was reared and in early manhood he was married near Boone Station, Kentucky, to Miss Sallie McLaughlin, a native of that state. He was a mechanic, following both cabinet-making and painting, and was employed in a factory in Cincinnati for a number of years. He died at the home place near Cheviot, Ohio, in 1832, when our subject was only seven years of age, and five years later the mother and children removed to Jefferson county, Indiana. In the family were three sons and four daughters, of whom three sons and one daughter are still living, namely: Richard C., a farmer of Spaulding, this county; Milton, now a resident of Nebraska; James H., of this sketch; and Mrs. Nancy Ann Brooks, a resident of Oklahoma.
James H. Wise grew to manhood in Jefferson county, Indiana, with but limited school privileges, and there was married in 1851 to Miss Sallie Ann Risk, a native of that county. Having learned the carpenter's trade in early life, he worked at that occupation for six years, and in 1864 came to Illinois, joining his brother Richard in Sangamon county. After operating rented land for two years, he bought one hundred acres in Williams township, where he now resides, and at once turned his attention to its improvement and cultivation. He subsequently purchased another one hundred acre tract on the south and today has one of the best improved and most desirable farms of its size in that locality. He raises a good grade of stock, including horses, cattle and hogs, and has found that branch of his business quite profitable.
Mr. Wise has been called upon to mourn the loss of his estimable wife, who died February 28, 1898, and was laid to rest in Walnut Hill cemetery. Of the six children born to them, only three are now living: M. F., who carries on the home farm, is married and has one son, James M. George R., who is engaged in farming near Williamsville, is married and has three children, Ruth, Clara and Clarence. James H., Jr., also a farmer of Williams township, is married and has two children, Bessie and Nellie. The children of the family now deceased are Rosetta, who died at the age of fourteen months and was buried in Indiana prior to the removal of the family to this state; Morton and Emma had both reached years of maturity at the time of their death and were buried in Walnut Hill cemetery.
Politically Mr. Wise was originally an old line Whig, but in 1856 supported John C. Fremont for the presidency and has since been a stanch Republican. He has never cared for political honors, however, but filled the office of commissioner of highways for three or four terms to the entire satisfaction of all concerned. Religiously he is a member of the Christian Church of Williamsville and is widely and favorably known as a man of integrity and sterling worth.

---
Return to 1904 Biographies Index
Return to Sangamon County ILGenWeb
---