Sangamon County ILGenWeb © 2000
In keeping with our policy of providing free information on the Internet, data and images may be used by non-commercial entities, as long as this message remains on all copied material. These electronic pages cannot be reproduced in any format for profit or for other presentation without express permission by the contributor(s).
---
PAST AND PRESENT OF THE CITY OF SPRINGFIELD AND SANGAMON COUNTY ILLINOIS
By Joseph Wallace, M. A.
of the Springfield Bar
The S. J. Clarke Publishing Co., Chicago, IL
1904
---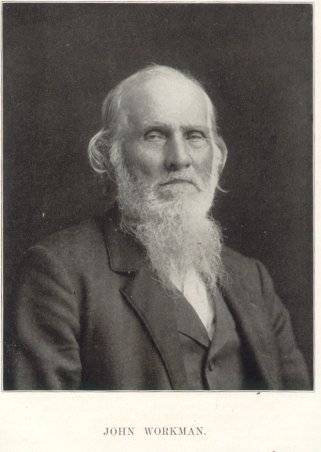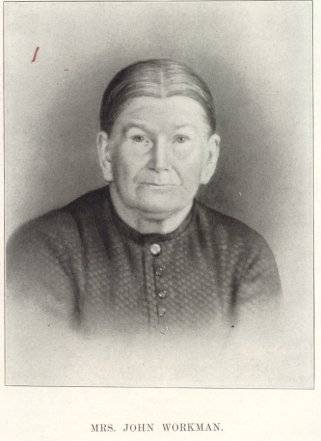 JOHN WORKMAN. - John Workman, who resides on section 5, Chatham township, is one of the popular and highly esteemed citizens of Sangamon county connected with agricultural interests. His friends are very numerous throughout the county and by them he is called Uncle John. He is numbered among the first settlers of this portion of the state, his residence in the county dating from 1830. At that time this portion of Illinois was largely a wild prairie region, in which the work of progress and improvement had scarcely been begun. Great changes have since occurred and a wonderful transformation has been wrought by time and man. Mr. Workman has ever manifested a deep and active interest in the development of the county and has borne his part in bringing about its present advanced condition.
A native of Tennessee, John Workman was born in Overton county, that state, July 6, 1824. His father was a native of Maryland, born in 1799. The grandfather, Jacob Workman, removed with his family from Maryland to Kentucky, settling in Bourbon County, and it was there that William Workman was reared. When a young man he went to Tennessee, establishing his home in Overton county, where he was married to Miss Sarah Bilyeu, a daughter of Peter Bilyeu. He then turned his attention to farming, which he followed in Tennessee for a number of years, during which time four children were born unto him and his wife. In 1830 he removed with his family to Illinois, as did Peter Bilyeu. They drove across the country and made a permanent location in Sangamon county. Mr. Workman purchased some land and opened up a farm. Later he entered more land from the government and developed a splendid property. He was a man of marked industry, never faltering in the performance of his duty, and in his business career he prospered. He reared his children upon the old home place and there spent his last days, passing away on the 1st of January, 1877, at the age of seventy-seven years. His wife survived him for some time and passed away at the advanced age of eighty-six years.
John Workman is the third in order of birth in a family of eleven children, nine of whom reached years of maturity. The eldest, Peter, was reared and married in Sangamon county, also reared his family here and afterward removed to Kansas, where his death occurred. Jacob, the second son, became a farmer of Loami township, where his last days were spent. Stephen remained a resident of Sangamon county until after his children were grown, when he removed to Harrison county, Missouri, where his death occurred. David married, but died when about twenty years of age. Elizabeth is the deceased wife of Webb Campbell. Isaac is married and resides in Loami township. William and Samuel are also living in Loami.
John Workman came to Illinois with his parents when a little lad of only five summers. He was reared on the old homestead farm and received but limited school privileges, being almost entirely a self-educated man. His training at farm labor, however, was not meager, for at a very early age he took his place behind a plow and continued to assist his father until twenty-six years of age. In September, 1850, he was untied in marriage to Miss Caroline Campbell, a native of Sangamon County and a daughter of John Campbell, one of the first settlers of the county, coming to Illinois from Tennessee. His son, Alfred Campbell, is said to have been the first white child born in Lick creek.
After his marriage Mr. Workman purchased one hundred and sixty acres of land in what is now Chatham township. Upon the tract was a small farmhouse and an old barn, and established his home in the frame structure he began cultivating and improving his land. He and his wife practiced frugality as well as industry, and later he was enabled to purchase more land and is today one of the most extensive property holders in all Sangamon county, his possessions aggregating six thousand acres, and he has given to his children over two thousand acres. Most of his land is in one body, but he has a farm of five hundred acres in Christian county, near Moweaqua. He has always engaged in the raising and feeding of stock and has handled cattle, horses and mules on an extensive scale. The cultivation of his fields has resulted in bringing to him golden harvests and all branches of his business have proven profitable to him, owing to his excellent management, his untiring industry and his strong resolution.
Unto Mr. and Mrs. Workman have been born eleven children: Peter, who died in infancy; Sarah E., the widow of Stephen Workman; John W., a grain dealer of Curran; Katie, the wife of Peter Campbell, of Loami; Josiah Webb, who is living in Maxwell township; Jacob, who died in infancy; Polly, the wife of Edmund Bilyeu, of Curran township; Alfred, who owns a farm in Curran township; Esau, a farmer of Chatham township, who resides in Springfield; Lusine, deceased wife of William Sately; and Caroline, wife of William Butler, by whom she has three children.
Mr. Workman gave his early political support to the Whig party, which he continued to support until its dissolution, when he joined the ranks of the new Republican party, of which he has since been an earnest advocate. He was elected and served for two years as assessor, has been commissioner of highways for several terms and has served as a delegate to the county conventions of his party. The cause of education finds in him a warm friend and he believes in employing good teachers in order that the schools of the locality will be of a high grade. He and his wife were members of the Christian church and he was one of the most generous contributors toward the erection of the house of worship in Loami. He has given freely of his means to church and charitable work and is deeply interested in everything pertaining to the moral welfare and to the intellectual development and moral progress of Sangamon county. He is a man of excellent business ability, rarely at fault in matters of business, fo unabating energy and keen discrimination, and these qualities have been the salient features in his success. He was one of the original stockholders of the Illinois National Bank, in which he owns ten shares. His interest in the county and its progress is deep and sincere and his efforts in its behalf have been exerted along practical as well as progressive lines. He is a man of unfaltering integrity, esteemed for his genuine worth, and no man in the community has a wider circle of acquaintances or enjoys in a higher degree the friendship of those with whom he has come in contact.

---
Return to 1904 Biographies Index
Return to Sangamon County ILGenWeb
---