Sangamon County ILGenWeb © 2000
In keeping with our policy of providing free information on the Internet, data and images may be used by non-commercial entities, as long as this message remains on all copied material. These electronic pages cannot be reproduced in any format for profit or for other presentation without express permission by the contributor(s).
---
PAST AND PRESENT OF THE CITY OF SPRINGFIELD AND SANGAMON COUNTY ILLINOIS
By Joseph Wallace, M. A.
of the Springfield Bar
The S. J. Clarke Publishing Co., Chicago, IL
1904
---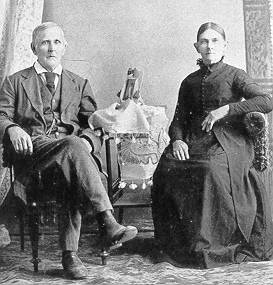 William Yocom
WILLIAM YOCOM - There is particular satisfaction in reverting to the life history of this honored gentleman, whose mind bore the impress of the historical annals of the state from early pioneer days down to the present, and from the fact he took an active part in the development and improvement of Sangamon county. His last days were spent in retirement on the old Yocom homestead on section 20, Williams township, surrounded by loving children and many friends.
Mr. Yocom was born in Montgomery county, Kentucky, September 18, 1811, and was a son of Jacob Yocom, who was born at Brighton, Fayette county, that state, when the Indians were far more numerous in that region than the white settlers and were on the warpath much of the time. Our subject's paternal grandfather, George Yocom, was a native of Virginia and from that state removed to Kentucky at a very early day, locating in Fayette county, where he owned land and carried on farming. Jacob Yocom grew to manhood in Montgomery county and there wedded Mary Boothe, who was also a native of the Blue Grass state. Her father was from Connecticut. Mr. and Mrs. Yocom continued to make their home in Montgomery county, Kentucky, until after the birth of ten of their children, and in 1827 removed to Illinois, locating first in Marion county. The following year, however, they came to Sangamon county, where Mr. Yocom entered several hundred acres of land and also bought additional property until he had nearly one thousand acres. From the wild tract he developed a good farm and continued to make his home thereon until his death. His wife survived him several years and died at the home of one of her children in Oregon about 1856, having spent five years at that place. Our subject is the oldest of the fourteen children of the family, there being twelve sons and two daughters, all of whom reached maturity and became heads of families. So healthy were they all that the father never bad to pay out more than five dollars for doctor's bills during his entire life, and he himself never had a physician until his last illness.
William Yocom's boyhood and youth were mainly passed in his native state, being sixteen years of age when he accompanied his parents on their removal to Illinois. On the 2d of October, 1828, he arrived in Sangamon county. He and his brothers broke the land and opened up the farm which is now known as the old Yocom homestead in Williams township. He remained with his father until his marriage, which was celebrated in that township in 1834, Miss Sarah Jane Merriman becoming his wife. She was a native of Scott county, Kentucky, and was a daughter of Lyman Merriman, who was born in the same state and came to Illinois, locating in Sangamon county, in 1829. After his marriage Mr. Yocom took up his residence on a farm on section 22, Williams township, but after operating it for one year he traded the place for one hundred and sixty acres of raw prairie land and forty acres of timber land. This place he broke, improved and cultivated, but he later sold it to his son-in-law, and in 1851 purchased the interests of the other heirs in the old homestead, where he resided up to the time of his death. He remodeled the residence and otherwise improved the land, which consists of one hundred and sixty acres.
Mr. and Mrs. Yocom had the following children: George S., a farmer of Williams township; Mary Ann, wife of Perry Sapp, whose sketch appears elsewhere in this volume; Jacob Y., a farmer of Williams township; Sarah, wife of Jacob Hussey; Lyman, who died at the age of twenty years; Madison M., who is operating the home farm; Elvira, who died when about fifteen years of age; Cordelia Elizabeth, who is on the home farm and is now acting as housekeeper; Rebecca C., wife of Jesse Yocom, a retired farmer of Williamsville; William, who was killed in a railroad accident at the age of twenty years; and Charles E., a farmer of Williams township.
Politically Mr. Yocom was originally an oldline Whig, but after voting for Abraham Lincoln in 1860 was a stalwart Republican, and never missed an election after old enough to vote. He served as commissioner of highways and as a member of the school board, but never cared for office. His life was ever such as to win for him the confidence and high regard of those with whom he was brought in contact, and he had a host of warm friends in the county, where he made his home for over seventy-five years. He died on the 22d of December, 1903, and his wife passed away November 24, of the same year, both being laid to rest in Wolf Creek cemetery.

---
Return to 1904 Biographies Index
Return to Sangamon County ILGenWeb
---