Sangamon County ILGenWeb © 2000
In keeping with our policy of providing free information on the Internet, data and images may be used by non-commercial entities, as long as this message remains on all copied material. These electronic pages cannot be reproduced in any format for profit or for other presentation without express permission by the contributor(s).
---
PAST AND PRESENT OF THE CITY OF SPRINGFIELD AND SANGAMON COUNTY ILLINOIS
By Joseph Wallace, M. A.
of the Springfield Bar
The S. J. Clarke Publishing Co., Chicago, IL
1904
---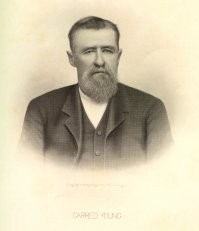 Page 118
GARRED YOUNG became a resident of Sangamon County in 1837 and was therefore one of its pioneer settlers. He was also classed with its honored citizens and various business interests felt the stimulus of his efforts and enterprise. Moreover, he was a man whose life was actuated by honorable principles, high ideals and the most commendable motives, and his death, which occurred on the 26th of February, 1904, was the occasion of deep and sincere regret throughout central Illinois.
Garred Young was born in Nassau, Germany, December 17, 1825. His father, Casper Young, was born at Hazelauch, Germany, June 8, 1798, and was married there in 1821 to Susan Boll, also a native of the fatherland. Mr. Young followed farming in Germany and four children were born unto him and his wife in that country, namely: Margaret, Garred, Mary and Catherine. About 1835 he brought his family to the new world, locating first in Illinois, and in 1836 he took up his abode in Cotton Hill township, Sangamon County, Illinois, where he was engaged in farming for several years. In 1855 he removed to Mount Pulaski, Ogle county, Illinois, where his death occurred September 27, 1875. His wife died in 1867. They were worthy representatives of the German-American element in our citizenship and were highly esteemed by reason of their sterling traits of character.
Garred Young was a youth of about eleven years when he came with his parents to Sangamon county, where he was reared to manhood. He had attended school in his native country and to some extent continued his studies in the English tongue, but has largely acquired his knowledge through reading, observation and experience during the years of manhood. He remained with his father until he had attained his majority and was then married in Springfield, April 18, 1852, to Mrs. Sally White, a widow, and a daughter of Charles Gatton. He purchased a small tract of land and afterward bought the interest of the heirs of Charles Gatton, thus becoming the owner of a valuable farm. This he cultivated and improved and he also engaged in raising stock. As opportunity offered he added to his realty possessions from time to time until he owned several valuable farms, all of which are well improved. He continued in the active cultivation of his land until 1891, when he erected a new and comfortable residence in Pawnee, where he resided until his death. Although he commenced life a poor laborer at five dollars per month, through his industrious manner and enterprise he gained a place among the substantial citizens of his adopted county. In 1856 he was in the employee of Charles Brunk and some time previous he had helped haul the stone from which the old state house, now the Sangamon county courthouse, was built; as necessity demanded, farming was his real life work and through that means he won honorable success and left property, real and personal, to the value of one hundred thousand dollars.
Mr. Young lost his first wife on the 2d of February, 1863. There were four children by that marriage, of whom three are living: Joseph, who died in infancy; Rebecca, who is an invalid; William R., who married Winnifred C. Butler and is now living in Pawnee; and Catherine, wife of J. R. Harris, a retired farmer of Pawnee. William Young was born September 14, 1858, and his children are William E., Patrick Joseph, one that died in infancy, Margaret and Garred. Mrs. Harris was born January 1, 1861, and their children are Garred Thomas, who was born July 3, 1881, and is with the L. B. Price Mercantile Company, of Springfield; Sarena Mary, born June 27, 1884; Gertrude Rebecca, born March 20, 1887; and Ernest Richard, born December 23, 1893. In February, 1864, Mr. Young wedded Ellen Abell, who was born in Kentucky, and died November 4, 1866. On the 4th of October, 1867, he wedded Margaret E. Buckman, who was born in Lebanon, Kentucky, and was there reared. Her parents were Pious A. and Lucinda (Rawleigh) Buckman.
Politically Mr. Young was a stanch Democrat, although his first presidential vote was cast for the Whig candidate in 1848. In 1856, however, he supported Buchanan and was afterward unfaltering in his advocacy of the Democracy. A friend of education, he did effective service in its behalf during a number of years' connection with the school board. He was commissioner of highways, being the first elected to that office under the new law concerning township organization. He was the first man that ever brought a road scraper to Pawnee and he took deep and active interest in improving the roads and developing excellent highways. For four terms he was a member of the board of supervisors and acted on a number of important committees, serving as chairman of the committee on printing and also on equalization. He was a member of the village board of trustees and was sent as a delegate to various county and state conventions of his party, while in 1872 he was a delegate to the national convention which nominated Horace Greeley. He was almost invariably called upon to preside at meetings of his party in the vicinity of his home and was a warm personal friend of the late Congressman William R. Springer. It was in 1868 that he was first elected supervisor and again in 1870, 1873 and 1874 he was chosen for that office. He was one fo the first board of trustees of Pawnee when the village was incorporated and helped form the ordinance under which the town is still working.
Mr. Young's honesty and good judgment were so proverbial that he was frequently called upon to arbitrate disputes and settle estates and differences among his neighbors. Both Mr. and Mrs. Young were reared in the Catholic faith and were members of St. Mary's Catholic church of Pawnee. He was one of the promoters and chairman of the building committee that erected the new house of worship on St. Mary's prairie - a fine building, costing about seven thousand dollars. Realizing that the Catholic parish was too poor to build a church, he headed a subscription list with a gift of one thousand dollars and circulated it and he afterward made a gift to the church of the robes and sacred vessels. He also contributed to the erection of other churches in Pawnee as well as to benevolent and charitable enterprises. He erected two or three residences and two brick business houses in the town and thus contributed to its substantial improvement. In all of his efforts he met with well merited success and possessed excellent ability as a financier, being alert and enterprising and having the firm resolution that enabled him to carry forward to successful accomplishment whatever he undertook. At his death the Illinois State Register said of him: "In the death of Mr. Young, a pioneer whose history is interwoven with that of Sangamon county has passed away - a man whose high character, energy and public spirit have won him a place of highest regard in the estimation of his fellow citizens. Beginning life in honest poverty he built an honest fortune. Starting out at the foot of the ladder he has gained its top in private life, and implicit trust in his sagacity and honesty caused those who knew him best to place him in public positions of responsibility time and again. He was a self-made man in the highest acceptance of the term and his passing brings deep sorrow to the community in which he was best known and sincere regret throughout this and neighboring counties. His genial temperament, generous disposition and high ideals won him the friendship of all. His life has been an example of upright life, continued effort and achievement which should prove an inspiration. Full of years, honored of all men, he has passed to that reward which such a life as his insures."

---
Return to 1904 Biographies Index
Return to Sangamon County ILGenWeb
---