All Rights Reserved © Copyright 2000 All material contained on these pages are furnished for the free use of those engaged in researching their family origins. Any commercial use, without the consent of the host/author of these pages is prohibited. We have tried to use images that were obtained from sources permitting free distribution, or generated by the author, and are subject to the same restrictions/permissions. All persons contributing material for posting on these pages does so in recognition of their free, non-commercial distribution, and further, is responsible to assure that no copyright is violated by their submission.





HISTORICAL ENCYCLOPEDIA OF ILLINOIS AND
HISTORY OF SANGAMON COUNTY Volume II - Biographical
Chicago: Munsell Publishing Company, Publishers 1912


This biography was submitted by a researcher and are abstracted from the above named publication.. Errors could occur, so one should always verify the correctness by obtaining copies of vitals and performing all necessary research to document what is contained herein.


---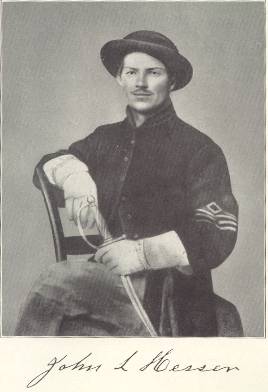 HESSER, JOHN L., an enterprising and successful farmer of Clear Lake Township, owns eighty acres of land worth, at least, $200 per acre, and has spent most of his life in Sangamon County. He is a veteran of the Civil War and is well known in G.A.R. circles, and thirty-six national encampments of the organization. He is a prominent member of Stephenson Post, No. 30, of Springfield. He was born in Virginia, March 17, 1835, a son of Samuel L. and Ann (Slagle) Hesser, the former born at Winchester, Va., July 2, 1797. The former was a farmer and contractor, who moved to Sangamon County in 1836. He spent twelve years in the city of Springfield, helping to build the old State House, which is now the Court House, and the old American Hotel, that stood on the site now occupied by Bressmer's store. He was one of the organizers of the Masonic Order in Sangamon County, and a charter member of its first lodge. At the expiration of the twelve years he moved to Mechanicsburg, where he continued working at his trade, living in that village from 1848 to 1850. For the following two years he lived on a farm near buffalo, when he retired to Buffalo, there dying in October, 1871. His widow spent the remaining eight years of her life with her son John L., when she, too, passed away, aged eighty-nine years.
The first wife of Samuel L. Hesser died January 25, 1825, so that the mother of John L. was Mr. Hesser's second wife, whom he married September 12, 1826. She was born in Hagerstown, Md., October 4, 1803, and reared in Winchester, Va. One child was born to the first marriage and ten to the second, sic children now surviving, four sons and two daughters.
John L. Hesser received his early education in the city of Springfield, where he attended Prof. Springer's subscription school, and spent two terms in Eureka College in 1857, and his first independent venture was buying and selling horses and mules. These his uncle, George O'Conner, brought to the amount of 250 head from Texas. Mr. Hesser and his partner, Dr. Fowler, sold and traded them all over the State. Mr. hesser moved to Jacksonville in 1855, and worked at the trade of carriage trimming, remaining there two years. He then returned to Springfield, and until the war engaged in working on his father's farm. On August 7, 1862, he enlisted, at Camp Butler, for three years, in Company A, Seventy-third Illinois Volunteer Infantry being mustered in as Corporal. On October 25, 1862, he was promoted to the rank of Fifth Sergeant; January 8, 1863, to that of Orderly Sergeant, and September 17, 1863, to that of Second Lieutenant. He spent 550 days in Confederate prisons and during this period suffered many hardships and privations. He was confined in Libby Prison, Andersonville, Danville and Charleston. Finally he was paroled, at Wilmington, N. C., February 25, 1865, at the close of a long and faithful service. In 1889 he made a visit to various battlefields where he had fought during the war but found all greatly changed. He was popular with his comrades and had reason to be proud of his record, as has his family. He is a strong Republican and had the honor of being well acquainted with Abraham Lincoln, of whom he has many pleasant recollections. Well informed on many subjects, Mr. Hesser keeps abreast of the issues of the day, taking great interest in public affairs.
Mr. hesser was married in Clear Lake Township, November 1, 1860, to Mary J. Cromley, born in Ohio. Her father came to Sangamon County in 1858, engaging in farming there, and lived in that locality the remainder of his life. One daughter was born to Mr. Hesser and wife, Sarah M., living at home. The family have a very pleasant and comfortable home near Riverton, and have many friends in the community.
---
Return to 1912 Biography Index
Return to Sangamon County ILGenWeb